Developer Edition

UBot Studio has a top-secret Developer Edition that will let you completely customize the look of your bots and hide the fact that you used our software to build them. Our customers LOVE this and sell thousands of copies of UBot Studio bots completely "under the radar". It also includes a fully styleable, customizable user interface, ready for you to add HTML, CSS, and Javascript, as well as a built-in installation file creator!

Remove Branding and White Label your UBot Studio Products
Remove the UBot Studio logo and process information from all compiled software. Yes, whitelabel and sell your software – build completely unique bots, and completely customize the UI with a specialized editor using built-in HTML5 styles. Or, use HTML, CSS, and Javascript to design unique interfaces like these below.
Whitelabeling:
Inside the Developer Options, you'll be able to choose how much "UBot Studio" stays in and how much goes when you compile. You can remove or customize not just the branding, but the tabs, icons, the navigation bar, and the run menu.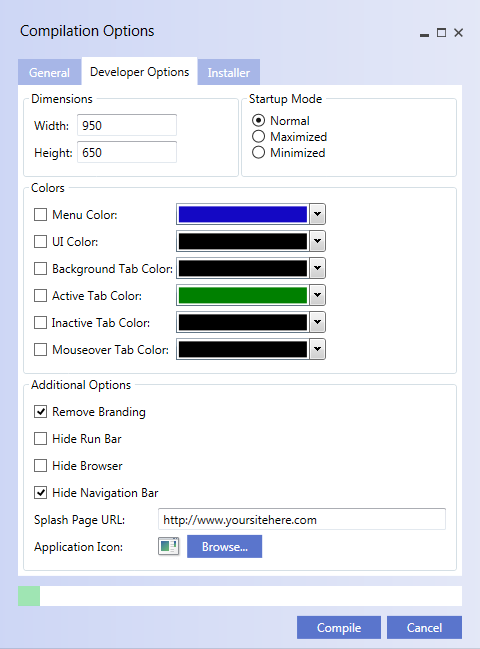 Styles inside your UI:
In any Edition of UBot Studio, the UI Editor lets you build customizable user interfaces for your scripts and bots, so buttons, drop-downs, text boxes, and more are a snap – you just drag and drop them into place and choose what they'll do. But with Developer, you have access to a whole series of styles that will grow and change over time, allowing you to easily create visually stunning and unique scripts without any coding background!


The regular UI is above — with a few changes you can see how easy it is to customize, below!

---
Write and Run Python Scripts
Python is a programming language that can help you automate everything from email sends to web scraping to robotics, and while it's significantly more complicated than starting off with UBot Studio, it's a very robust language and fairly easy to understand for beginners. (For more info on getting started with Python, click here to read about it and here to get it set up on your computer.)
Because at times using Python will make your bots faster, smarter, and more awesome, we included Python integrations inside of UBot Studio. As a Professional user, you will be able to run IronPython scripts. But as a Developer user, you'll be able to write and edit Python scripts directly inside UBot.
---
Create Self-Extracting Installation Packages of ALL Necessary Files for Your Customers and Clients
With the new Create Installer option, you will now very quickly be able to build compressed stand-alone install packages out of your scripts, and also include any files you need (Text, XML, etc) for them to run. Of course you'll also be able to include your software's name and a banner image for the installer.Build tidy packages containing everything your customer will need to use your software.

One other thing – when your bots first run on your customers' machines, they often connect to our server to download required UBot Studio files. This isn't always feasible. It's hard for those with slow connections, and from time to time, it can set off false virus alerts. And, your customer doesn't want to see multiple install windows and become confused.
So, you'll also now be able to include all the necessary files required to run, right in your installer.

---
Run Bots Completely Invisibly with Incognito Mode 
With Incognito Mode,
You can compile uBots into command line only tools
You can combine with the "set headless browser" command for super-fast Stealth botting
You can run a uBot as a hidden process, allowing you to seamlessly integrate it into VB.Net, C#, Python, or any other windows language, and run it to load other programs
You can even automate Windows completely invisibly.
You can generate your user interface separately, and let your uBot just worry about the functionality
You can add your uBot command line tools to part of a larger library written in the language of your choice
You can create a master compiled uBot that spawns other uBots… an army of uBots controlled by a single interface!
Creating fully-customized bots is simple to do, but features like those seen here are only available in the Developer Edition.
So – What'll it be? Stick to the pack or go out in front?